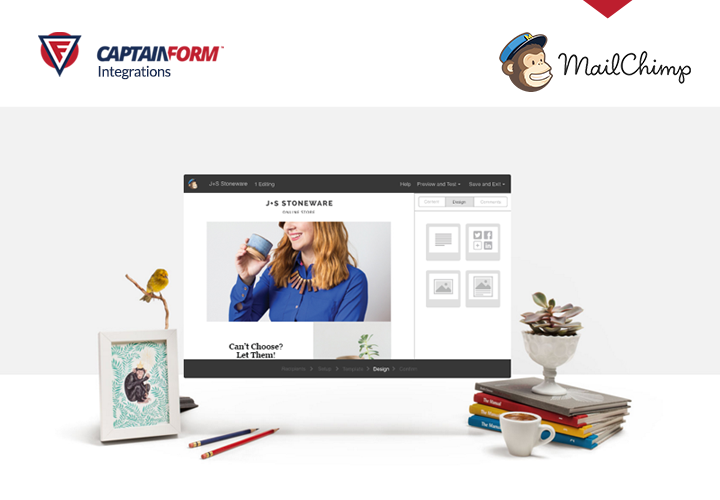 72% of consumers choose email when asked, "In which of the following ways, if any, would you prefer companies to communicate with you?" (source: MarketingSherpa). So, if you are running a WordPress website, an email is one of the most efficient ways to approach the people who have showed interest in your product, site or content. 
With that in mind, email marketing should be an essential element of your business's marketing strategy. However, before making email marketing campaigns, you first need to have mailing lists to reach out your customers. The best way to grow an email list is doing it slowly and organically, and WordPress forms integrated with MailChimp might be the best way to achieve that, especially if you choose the WordPress forms plugin by CaptainForm.
With the CaptainForm and MailChimp WordPress integration you will have a whole new power when it comes to email marketing, and will be able to actively build your mailing lists. How? Using our native integration with MailChimp, you can connect your WordPress form to your MailChimp account, and every time a new entry is submitted to your form, your visitor's email address will be sent automatically and immediately to your MailChimp mailing lists.
After your visitors fill out your CaptainForm form with their contact details, and the information has been sent straight to your MailChimp account, you will be able to enjoy MailChimp's powerful marketing automation tools, and learn how your campaigns are affecting your business.
But why choose CaptainForm WordPress MailChimp Plugin over other plugins from its type? Well, we can list some reasons to you:
CaptainForm needs

no add-ons

since everything you need is already within the product.

It provides superior features, exceptional personalized customer support for all users, and an intuitive and streamlined user experience.
It has pre-installed functionalities, like conditional logic, advanced security (SSL encryption), payment integration, free form templates, and much more.
It allows you to fully customize your forms (even using custom CSS), and publish it in multiple ways on your WordPress website.
To sum up, inside the CaptainForm dashboard you can create in a few seconds a powerful signup or subscription form, customize it according to your needs, integrate with MailChimp and publish it on your WordPress website. Sounds pretty easy right? And it is.
So, don't waste time and start growing your MailChimp mailing lists with the help of CaptainForm WordPress forms now.
And as always, let us know your thoughts in the comment section below.
The following two tabs change content below.