WordPress Survey Plugin
Increase user engagement on your website with awesome WordPress surveys
Download Now
Take full control of your surveys with this
WordPress survey plugin, monitor results and keep tracking of new submissions.
Download the CaptainForm WordPress survey plugin to create surveys for free and post them on your blog or CMS in posts, pages, widgets or popups.
Use the drag & drop editor to add items, conditional logic to filter questions, real-time reports to create an overview and many more. No code, no add-ons! 100% secure!
Advanced Automatic Reports
Email & SMS Notifications
Multilingual Support
PDF Notifications
Conditional Logic
PDF, CSV & Excel Exports
Install the WordPress Survey Plugin
Follow our guide on how to install the WordPress survey plugin to get started. You will find the CaptainForm plugin in your dashboard menu. Once you have activated the free plan, you can begin creating your survey. We also provide some survey templates in the core plugin that you can use.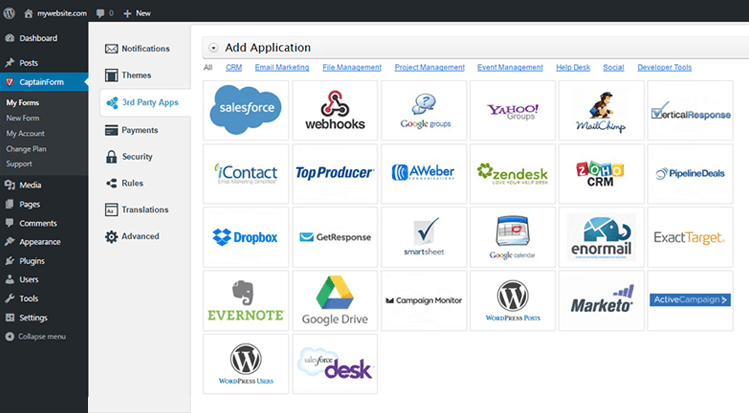 WordPress Surveys with Third Party Apps
You can integrate your WordPress surveys with many popular third party apps that are included in the premium plugin, such as MailChimp, SalesForce, Google Drive, Smartsheet, Campaign Monitor and ActiveCampaign. All collected data is automatically sent to your spreadsheet or mailing list. Read more in our features matrixpage.
Publish your WordPress Survey
You can publish your WordPress survey in a post, page, widget or popup. Just select the code, copy it and paste it where needed. If you have some PHP knowledge, you may also use the function call option to publish the survey in other areas of your CMS or blog. See our guide on how to create a survey from top to bottom.
WordPress Surveys with Real-Time Statistics
You'll be able to receive email & SMS notifications after each entry , track conversions with the built-in Google Analytics integration, create custom reports that are updated automatically, filter entries in your reports with rules, view & edit entries in a dedicated database table or export entries in PDF, CSV and Excel.
Get the WordPress survey plugin now to get a lifetime
customer support service at your disposal. No charge!
Free Download