Having your own business, requires not only a lot of work, ambition, but also the right tools that help you develop your initiative at a convenient cost that includes all you need. This is the story in short of uDJ, one of our customers. Let's find out more about them by reading below:
uDJ provides couples with the best music experience for their wedding, adapting to different expectations and tastes. Couples don't need to hire a DJ anymore as uDJ allows couples to choose a pre-recorded mix and select from various packages on the website.
It's the ideal choice for those who have a remote wedding and cannot find a DJ, but also for those who are worried that the DJ will play songs that the couple or the guests don't like. uDJ service enables couples to save time, money, but without making compromises over the music played at one of the most important events in their lives.

The business owners have  needed an order form that streamlines the payment process and simplifies interaction with potential clients. Another challenge was ensuring that their product line appears as simple and clear as possible: "Our main challenge at the moment is ensuring our product line appears as simple and clear as possible. We're aware it's a unique service with various options and add-ons,  so we do our best to get the message across to potential customers in the most concise form possible. Therefore everything must be streamlined. This includes the order form which we use CaptainForm for. The automated rules are perfect as the Client doesn't need to see what is irrelevant to them."
uDJ's owners did an intense research into the options that were available for WordPress form plugins. After finding and testing CaptainForm's features, it became their final choice as it met their business needs. They said:  "After installing the plugin, the process seemed pretty straightforward, but it was our very specific requirements that took a longer while to implement. We were back and forth with the support staff who were excellent."
Optimized payment process
One of the needs of uDJ's owners was to create and organize order forms the easiest way possible and to keep in touch with their customer database. For this, order forms were integrated with PayPal.  Additionally, using automated rules was very useful as the client didn't need to see irrelevant details. With the help of CaptainForm, the payment process was easy, fast and safe right from the start effortlessly.
The business owners could gather contact details through the forms their potential users submitted and generate customer databases. Thanks to third party integrations, they can send contact details from customers straight to their MailChimp list. This way, they could have customer data stored for future use such as newsletters, sending offers or just saying "Hello" on a special occasion.
Create and customize forms easily for a strong brand recognition
Building and customizing forms with CaptainForm is hassle-free and fast. It's easy to customize the colors, fonts, submit buttons, themes and many more with just a few clicks. This was extremely important for our client who needed to build a strong brand recognition.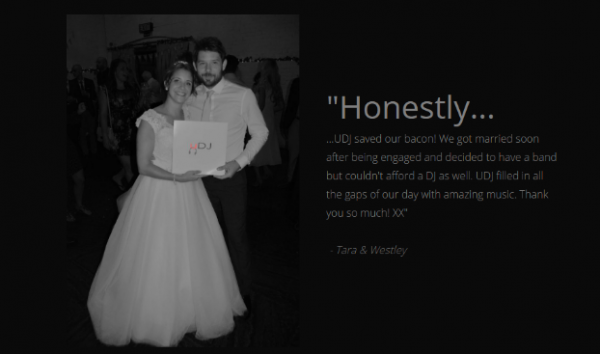 Saving time
Starting a business requires not only money, but also a lot of time to organize tasks, including promotion. uDJ's owners saved a tremendous amount of time when creating forms without having technical skills.
To sum up, an optimized payment process and keeping in touch with their customers were the main needs of uDJ. Moreover, saving money was also one of the challenges experienced by the business. Using order forms and 3rd party apps such as PayPal and MailChimp, uDJ managed to simplify the workflow and the orders: "So far, so perfect – I think that sums it up ideally. It's reliable. Income is obviously central to every business and the order form and it's integration with PayPal and MailChimp make it a truly essential part of our business, not just our website. Very pleased to be using CaptainForm."
As a result, uDJ's owners had the possibility to develop their business by saving money and staying in touch with their customers and potential customers, proving them a unique service that makes the wedding day a memorable event.
The following two tabs change content below.