The WordCamp Europe 2018 was hosted in Belgrade, Serbia. The city is vibrant, beautiful and everyone is friendly and welcoming so we had no trouble at all. The capital of Serbia, Belgrade, is an old city in the centre of the Balkans with fantastic food, culture and an amazing WordPress community. After we checked-in our hotel, it was time to go and prepare our booth. The event took place in Sava Centar, the largest conference, cultural and business center in Serbia, as well as in the region.
The event started with the contributors day where over 800 people participated. Contributor Day was hosted in Belexpo Centar which is conveniently located two kilometers from Sava Centar. Contributor Day is for everyone, so even if never contributed before, participants can help out, meet new people and learn lots of new things. This day is mostly about giving back to the WordPress community and helping the open source software grow.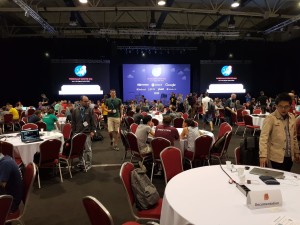 After Contributors day, we had a Warm Up event where people gathered to meet and greet.
Friday, everyone had the booth ready. Throughout the day, there were many workshops and conferences. The conferences covered areas like community of WordPress business owners, developers, marketers, designers, content strategists and educators and many other.
Two amazing and chachy speeches:
Davide Casali – Mastering Feedback: You, the Team, the Product:
This talk will gave insights, challenge myths, and provide practical ideas.
"Feedback is commonly perceived as something that everyone is able to do – who doesn't have an opinion? However, it's also very easy to give bad feedback: we all know it when we are on the receiving end. This gets more and more evident when the team grows from two people to a whole company.
Feedback thus becomes a critical skill that can be learned, improved, and mastered. Good feedback skills can improve the quality of the teamwork and the result by a large margin, while bad feedback can grind any team to a halt with confusion if not worse."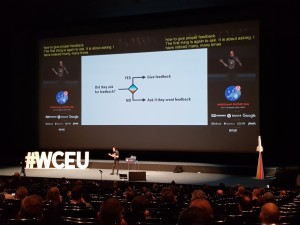 Tammie Lister – Anatomy of a block: Gutenberg design patterns
"What are the little blocks made of? In this deep dive into Gutenberg's design patterns, we'll start looking at existing Gutenberg blocks, taking you through the design patterns used. From there, you will learn how to harness these patterns and use them to create your own blocks. Learn how to design a block the right way, and build on the strong design foundations within Gutenberg."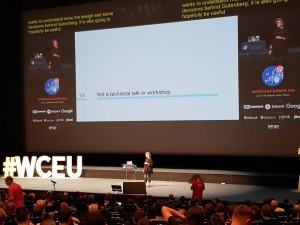 To special topping was the after party where everyone got together to have some fun and mingle.
We were very happy to meet friends from previous WordCamp events but also newcomers who asked us a lot of questions about CaptainForm.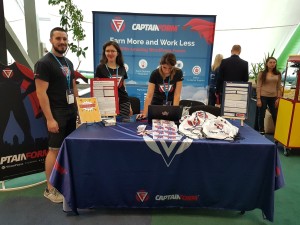 Thank you everyone! The positive energy and feedback we came back with will help us continue growing and we definitely look forward to meeting you next year in Berlin, Germany.
The following two tabs change content below.