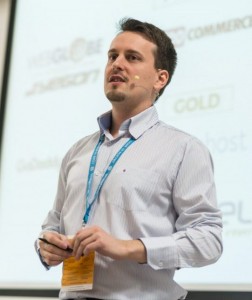 Today, we're glad to interview Peter Nemcok, the Slovak WordPress Community founder and WordPress enabler and consultant at Webikon. He is also the general translation editor for Slovak language and a WordCamp mentor.
Having great experience in the WordPress field, Peter is a valuable source of inspiration. To find out some great pieces of advice, read the following interview. We are very grateful for the fact that Peter took the time out of his busy schedule to answer to our questions.
Back in 2008, you said that WordPress was love at first sight.
  What did you like so much about it?
Yes, it was. I liked the fact that it's so easy to use and that the WordPress Community is very friendly. When you need help, you can always reach out to people already involved in the community and they will help you.
As a WordCamp mentor and organizer, involved in the WordPress community as well, what's your advice for someone who wants to organize a meetup or a WordCamp in a city where these kind of events don't usually take place? How should someone start?
I would recommend to gather a few people interested in WordPress at first and then start spreading the word about it in several ways: on their blog, social media pages and website. In time, you will know more and more people and you can invite them to your meetup or to the WordCamp you will organize.
Can you tell us a few techniques that you would recommend for promoting a meetup? What about a WordCamp?
The first thing would be to focus on people who are interested in WordPress, online technologies and so on, and for a few euros spent on promotion, you can reach dozens or maybe sometimes, thousands of people.
The second technique which worked for us was organizing meetups in local co-working spaces. It helped us a lot and there are lots of people interested in these events. We have our local website for the WordPress Community with articles about WordPress – www.wp.sk and we promote all the events there. This is a website I started in 2009 and quite a lot of people from the WordPress community in Slovakia already knows about it.

If someone wants to become a contributor, but has no experience, what are the first things to start with?
Go to make.wordpress.org and read about various teams or different ways in which you can contribute to WordPress and if something is interesting to you, read a little bit more and you can contact people involved in the polyglots team, for example or something else. So, read some information, get in touch with the right people and then start a discussion on Slack. If there's a WordCamp around, attend it and also the Contributor's Day because it's the best way to learn a lot in person.
You're also a WordPress trainer. What are your favourite training topics?
I teach people starting with WordPress, the very basic things about it – how to install WordPress, how to create a page and so on. I also  have a training about WooCommerce, managing WordPress sites, how to create a site, maintenance, HTML and CSS basics and more. My favourite topics are teaching the basics – cause when people come to my courses, they don't know much about WordPress, but they are impressed when they discover what it can do and how easy it is to use. I like saying that WordPress is as a Lego game for adults. They learn to create something and many of them love to "play" with WordPress after my trainings.
As a mentor and organizer, how do you keep a team of volunteers motivated?
I think that's really easy when you're organizing a WordCamp. It's always a team of people who love WordPress and who like to create something for others, so you don't need to motivate them anymore because they already have a strong internal motivation. But the best thing you can do is not to kill their motivation, so help them on their way of contributing and try to solve the problems they have. Or, I would say, enable them to do what they want to do.
The best way is to attend a meetup or a WordCamp before they volunteer or to watch some videos from WordCamps just to have some experience in order to set their expectations and to see what their part could be. If they don't have this experience, discuss with them about the expectations, about what they need to do and how much time they have. This is extremely important as in the beginning, when a WordCamp is organized, there is a lot of motivation, but during the coming months there is less and less so, sometimes it's possible to start with just a few people that will do all the work.
But it's getting better and better with every WordCamp because people know what to expect, what to do as they go deeper and deeper into the WordPress community.
If you had one week off to focus on developing a new WordPress plugin, what problem would it solve?
Yes, that's what we keep thinking about at Webikon, our WordPress agency. Right now, we're thinking about creating a WooCommerce plugin to help with the checkout process or the cart and to improve the UX. This way, we can increase the conversion rate and in WordPress are many possibilities to solve this kind of problems.
The following two tabs change content below.