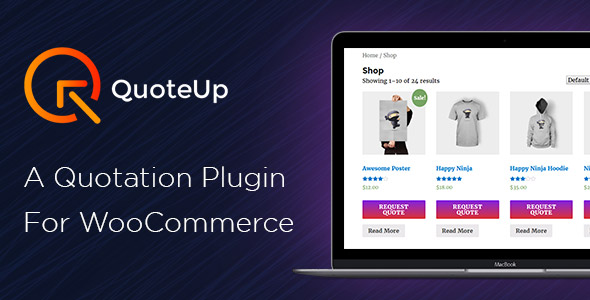 The web is overflowing with numerous statistics, insights about eCommerce and research on how digital is transforming retail. These statistics highlight the fact that the eCommerce landscape is constantly changing and growing. Making the online shopping process seamless to keep up with today's customer is imperative.
The open source eCommerce plugin for WordPress , WooCommerce,  currently powers over 30% of all online shops.  It's pretty understandable since it does have a lot to offer. It's free, flexible, user-friendly, it has a built in analytics system and various extensions available for extra functionality.
And since we're talking about WooCommerce plugins, QuoteUp is one of them – a quotation plugin recently launched by WisdmLabs, that adds a quote request functionality.
If you are a store owner, this plugin will empower you to conveniently send and manage complex quotes for your WooCommerce store.
How does it work?
It's quite simple. Since QuoteUp allows you to add a 'Quote Request' or 'Proposal Request' button on select products or all products, the customer can easily add the desired product to the quote cart.
The next step is to specify the expected price and quantity. By using custom notes per product, the customer can request a single quote for multiple products at once.
The store admin then receives the quote request for one or more products via email. These are also stored in your store's backend.  Straight from the admin panel you are able to edit and add prices for each product and send the Quote to the customer when you're finished.
Finally, the customer receives the quote and can either accept or reject it. If he accepts the quote, he will be redirected to the checkout page where he makes the purchase. If he rejects it, you have the option to edit the price again and send another quote. Easy peasy.
Check out the QuoteUp Demo Video on Youtube : https://www.youtube.com/watch?v=0IUJL_UU7Ik
Live Demo: http://quoteup.wisdmlabs.net/
Features
The plugin is equipped with strong features such as: selective Quote Cart button display, selective product price display, easy product demand analysis, Quote PDF generation, custom notes per product, one-click checkout option, actions & filters for developers and many more.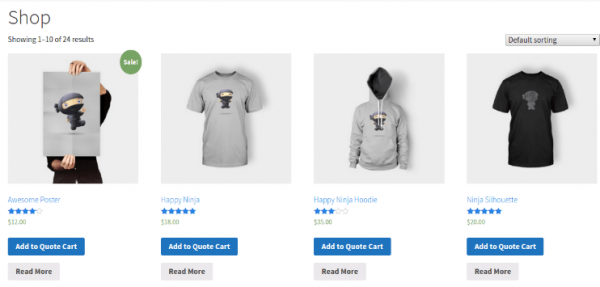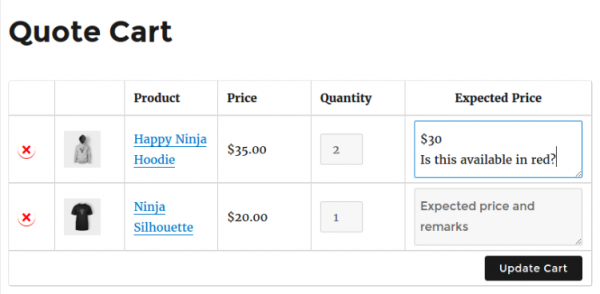 Highlights
➯ Efficiently transform WooCommerce into a 'Quote Only' or Catalog store
➯ Full control over directing which products can be purchased straightaway or need a price quote to be requested
➯ Complex quotes and proposals can be easily managed
➯ Adjust product quantity and price to sell custom services without a set price
➯ Analyze Purchase Inquires with demand analysis, inventory management, strategic marketing, calibrated pricing and micro-targeting
➯ In-built negotiation system, that enables you to efficiently manage and send quotes to potential customers
Pricing
Choose from 3 different options:
Single Site – $57.00
2 Site

(Staging+ Production)

– s$77.00
If you want to move QuoteUp from your staging site to the production site, simply deactivate the license on the staging site and activate it on the live site.
Once you've purchased QuoteUp, you will receive an email on the registered email id, with the plugin download link and a purchase receipt id.
If you want to enhance the sales effectiveness of your website, hurry up and add QuoteUp to your WooCommerce store!
The following two tabs change content below.